#3: Blood Oath
| | |
| --- | --- |
| Written by John Vornholt | Dell Publishing, 1995 |
This story takes place between the episodes The Geometry of Shadows and The Coming of Shadows.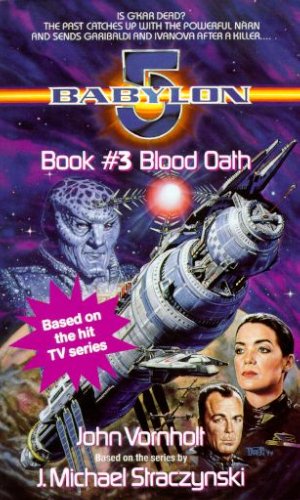 G'Kar receives a message from Mi'Ra, the daughter of his old rival Du'Rog. Mi'Ra claims a blood oath against G'Kar because she still feels he is responsible for the discreditation of her father. G'Kar decides to leave for the homeworld to deal with the situation, but his shuttle explodes on departure. Na'Toth swears a blood oath of her own, convinced that the person responsible is Londo Mollari.
G'Kar is actually alive and well, having faked his own death, and is posing as the cousin of a Narn living Down Below. After the memorial service on Babylon 5, he is eventually discovered. He boards a cruiser with Ivanova, Garibaldi, and Al Vernon, a human who recently lived on Narn, headed for his memorial service on the Narn homeworld.
G'Kar tries to enlist the services of his wife, Da'Kal, to try and make peace with Du'Rog's widow, Ka'Het, through the donation of a sum of money. When Mi'Ra discovers that G'Kar is indeed still alive and responsible for the family's new-found wealth she hires more assassins to kill him and the human delegation.
The group is poisoned, but Ivanova and Garibaldi seem not to suffer the effects as badly as the Narn and manage to find an antidote. Vernon tells Mi'Ra that he has information that will clear her father's name but will only reveal it if she rescinds the blood oath on G'Kar. G'Kar discovers that Londo was the one who provided the information, so that G'Kar would be indebted to him for his life.
Notes: Du'Rog's first assassination attempt on G'Kar was seen in The Parliament of Dreams. G'Kar's wife Da'Kal also appears in the novel Betrayals; although the wife named in the novel Clark's Law is J'Ntiel.
Recurring Characters: Na'Toth.
John Vornholt is the author of several Star Trek novels, and also wrote the Babylon 5 novel Voices.